Rookie boy group Omega X has unveiled the official music video for their comeback title track. 
On January 5, the much-awaited 'Love Me Like' was finally revealed to the public, and the members have left fans stunned with their attractive looks and groovy beats.
The album consists of five songs with the title track 'Love Me Like'. Among the b-sides,'12.24' was previously shared with fans during their first fan meet, which took place in the latter part of 2021. The members further participated in the lyrics for 'Liar' and  '전화해요(Please).'
The news about their comeback was officially released on December 16 with a teaser motion picture. Since the release of this news, the members continually showered fans with sultry concept images and video teasers. 
"I believe this album really displays our diversity as a group. In addition, I hope to show a new charm and side of Omega X our fans have yet to see, particularly through our self-composed B-side tracks. I'm grateful we have the opportunity to showcase these songs." 

– JAEHAN
"I pour my sincerity and heart into each and every song I write, and 'LIAR' is no different. It's an affectionate track for me, and I'm so happy and proud it's been included in this album. I hope FOR X finds our LOVE ME LIKE album relatable, and the album also brings us closer to our fans." 

– YECHAN
"I'm ecstatic to see our fans again so soon with a fast comeback. In this album, I've participated in the making of two tracks, 'LIAR' and 'PLEASE'. Please look forward to them! I'll continue to work hard and create the best songs for our FOR X to enjoy!!!"

– HANGYEOM
Watch the album showcase here!
Omega X consists of 11 members and debuted under Spire Entertainment on June 30, 2021, with the mini-album 'VASMOS,' which was packed with their composition skills. Their activities in 2021 gave them Rookie of the Year nominations for The Golden Disk Awards, Seoul Music Awards, and Hanteo Music Awards.
The group's name has an interesting meaning to it, taking after the final letter of the Greek alphabet, Omega (Ω). While Omega denotes 'end,' the 'X' stands for infinite possibilities. The boys aim to make their determination become the last boss in the K-Pop genre, with regular change and development. 
All members from Omega X have previously appeared on reality audition programs or debuted under other K-Pop acts. The group and their label believe that liking an artist and becoming their fan, is not just about sharing the same musical inspiration, but empathy has deep roots in all this.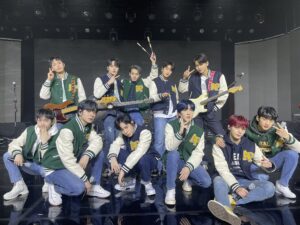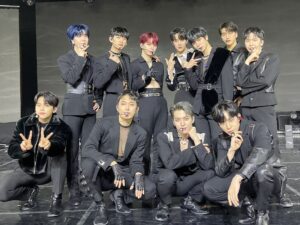 Each member has their own special story, through which they hope fans can resonate and emphasize with every member and their unique personalities.  
Omega X has begun the new year with 'Love Me Like' but their releases won't stop with this. The members look forward to 2022 in order to present fans with more. Stay tuned to not miss more news about them!
Connect with us on Instagram  Twitter  YouTube for more content, interviews, & news