Shon Min Ho is officially married!
The top male model married Song Mi Ra, the CEO of prominent Korean online fashion company DARKVICTORY on May 14 KST.
Shon Min Ho took to his personal Instagram account shortly before the ceremony to convey his pre-wedding nerves to his followers, stating,

"On Instagram, I see a lot of people who are getting married saying, 'This day has come to my life,' and the day I can say that too has arrived. After a long and passionate love affair, we've decided to live happily together. On this sunny afternoon, I would be grateful if you could come and give our future many blessings. See you soon."
The model also posted a lot of stylish and charming photographs from the couple's wedding session, demonstrating their strong visual chemistry and that post got a hugely positive reaction from his Instagram followers, which included a lot of celebrities. Actress Kim Hee Jung, model Bae Young Yoon, Yeo Yun Hee, and Lee Young Jin, dancer Honey J, and rapper/producer Peakboy have congratulated him in his post.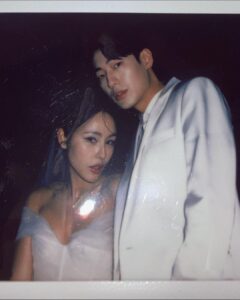 Shon Min Ho, meanwhile, began his career as a model in 2008 before starring in the 2017 online drama 'Moment.' He was also seen in several music videos, including Tiffany of Girls' Generation's solo song "Heartbreak Hotel," Davichi Kang Min Kyung's "Because I Love You," Ga In and Jeff Bernat of Brown Eyed Girls' "Play," Jung Joon Il's "Next Winter," and others.
In 2020, he and actor Kim Min Suk made headlines when they discovered a man secretly photographing a woman in a cafe in Gangnam's Apgujeong neighbourhood and denounced him to the authorities.
Congratulations to the newly married couple.
Connect with us on Instagram Twitter   YouTube for more content, interviews & news