The action movie The Roundup: No Way Out starring Ma Dong Seok has finally announced its release date.
The release date for Lee Sang Yong's film The Roundup: No Way Out is May 31, 2023. Along with the confirmation of the date, a trailer and teaser poster were also released. The teaser shows Ma Suk Do throwing punches in a tense fight scene, producing a burning exhibition of exciting hand-to-hand combat and raising the expectations of many others. The poster says, "Sweep it all away," which promises a thrilling experience for the audience.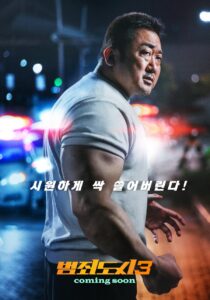 The action-packed crime-fighting mission tells the story of invincible monster detective Ma Dong Seok, who relocates to Seoul's Gwangsu Avenue to capture the mastermind of a brand-new drug crime case. Lee Joon Hyuk and Aoki Munetaka play criminals in the film who will face off against the monster detective. Following the box office success of The Roundup, the upcoming sequel The Roundup: No Way Out is raising expectations for epic action scenes and a well-crafted plot.
Are you excited about Ma Dong Seok's action movie?
Connect with us on Instagram Twitter YouTube for more content, interviews, & news.