Rookie girl group LIGHTSUM have released their first single album 'Light a Wish'. Tagging along with the album is the official music video for its title track 'VIVACE'.
The music video begins with the opening of a door, behind which lies a shining world clad in a positive light. 'VIVACE' is a synth pop song with a heavy bass and mysterious mood, displaying the colorful charm of the group with a blend of blue, purple and yellow.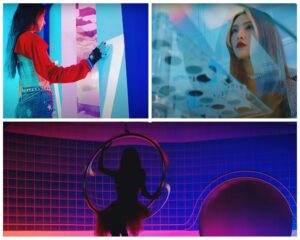 Another addition to the beauty of the song is the lyrics that talks about finding one's destiny. The girls sing about dancing all night long to the song while moving forward to achieve that dream in a quick, steadfast and lively manner. 
The choreography of the song is set in such a bright and refreshing manner. Throughout the song, the coordination between the members and the smooth transitions portray each and every member in their own light.
If that wasn't enough, their B-side tracks leave another deep impression in the listeners mind and hearts. 'You, Jam' with its addictive melody, especially the beats that kick in immediately, unravels the curiosity-filled emotions of the current generation. Whereas 'Popcorn' has a subtle but very catchy impression because of the vocals, chorus and the beats.
Meanwhile during their recent showcase, the group talked about how they want to show their new side and wanting to meet their fans, while promoting the songs. They also thanked their fans for loving and supporting them. 
LIGHTSUM debuted with their single 'Vanilla' in June 2021 and also topped the iTunes single chart in 10 regions around the globe. Certainly their new single will definitely capture the eyes and hearts of K-Pop fans all around the globe. 
For more updates, please stay tuned to Namaste Hallyu.
Connect with us on Instagram Twitter YouTube for more content, interviews & news.