Lee Jung Jae wins Best Actor Award in Drama Series at 27th Critics' Choice Awards.
On 13th March, smashing hit drama Squid Game's  Actor Lee Jung- Jae became the 1st- ever Korean to bag Best Actor Award in Drama Series Category.
While receiving the award, he expressed his immense gratitude, "Thank You God. Thank You to everyone who supported 'Squid Game.' It's really hard to put to words how I'm feeling.  Thankyou."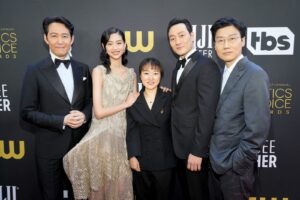 The series also took home the Award of Best Foreign Language Series. After creating history at SAG Awards, Squid Game, one of the most successful dramas of Netflix continues its domination.
Congratulations to Lee Jung- Jae and the whole team of Squid Game!
Connect with us on Instagram  Twitter  YouTube for more content, interviews, & news.
Written by Rachita