Rookie girl group HOT ISSUE has made their comeback with their first single album 'ICONS.' The tracklist includes two songs, the title track 'ICONS' and a B-side track 'Hot Candy.' An official MV for the title track has also been released on their Youtube channel.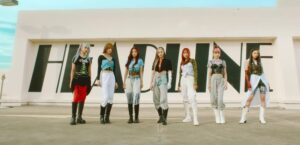 The title track 'ICONS' aims to deliver a message to everyone stating that "everyone is special in their own way and thus everyone can be an icon." The music video though, on the other hand demonstrates the confidence and charm of the group. The song follows a hip-hop based performance that starts on a whimsical flute melody, but right in the middle, it transforms into a moombahton genre with the addition of an addictive chorus. 
Ever since their debut, HOT ISSUE has showcased themselves as Honest, Outstanding, and Terrific. The lyrics of the song totally conform to their concept as they describe how one can break the rules and make a place for themselves in this ever changing world as they are already an icon.
At the online showcase, the group mentioned the efforts and changes that happened within them in the last five months while preparing for the comeback. The girl group also expressed that it felt surreal to have a comeback so soon considering they just had their debut. HOT ISSUE relayed that their intention was to convey and showcase their dignified charm through this album and solidify their place in the K-Pop industry. 
The group for sure, left a strong mark with their comeback and expressed their ambition to charm their fans with their talent and art.
Connect with us on Instagram Twitter YouTube for more content, interviews & news.
Written By Arya