The first OST for Jang Hyuk and Jang Na Ra's upcoming drama Family will be sung by H1-KEY.
The NIS black agent spouse Kwon Do Hoon (Jang Hyuk), who poses as a regular office worker, and Kang Yu Ra (Jang Na Ra), a devoted wife who aspires to have the ideal family, are the main characters of the thrilling family shooter spy comedy 'Family.' The debut OST 'Danger' is anticipated to increase viewers' empathy and sense of immersion.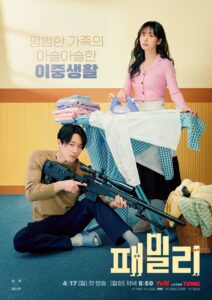 The song 'Danger' is in the current pop genre and has a lush orchestration-based feel. It has a menacing and foreboding mood, yet it also has a fun vibe and an addicting chorus.
H1-Key uploaded a video of 'Danger' choreography shorts on the official Stone Music Entertainment YouTube account on the 10th. tvN's new Monday-Tuesday drama will release their first OST 'Danger' by H1-Key on April 18 at 6 PM KST (2:30 PM IST).
Check out their choreography shorts.
Connect with us on Instagram Twitter YouTube for more content, interviews, & news.