On July 20, 2022, the boy group dropped their 4th mini-album titled 'We're Not Alone Final: Only You,' for which, 'BLIND LOVE' serves as the lead single.
According to the music video's plot, the boys are vampires but hide their true selves and live as bodyguards to protect the women they love, hence showing how powerful and blind their love is. The members wish to send a message to their viewers that it is okay to support the ones you unconditionally love, whatever it takes, and that GreatGuys will carry forward this grace until the end.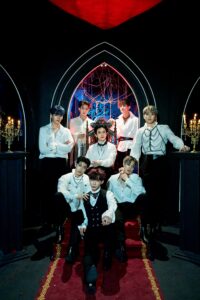 GreatGuys is a South Korean idol group under DNA Entertainment. The members include Jae I, Horyeong, Haneul, Daun, Dongin, Hwalchan, Donghwi, Uiyeon, and Baekgyeol. Member Donghwi is currently serving in the military.
The group made its debut on August 25, 2017, with the single 'Last Men.' The boys have actively participated in promotional activities and went on to become the very first K-Pop group to perform in the Dominican Republic. They aim to be versatile artists and work on various genres of music and display their different sides to their supporters.
Have you checked out BLIND LOVE yet?
Do let us know your thoughts on the track!
Connect with us on Instagram Twitter YouTube for more content, interviews & news.