Ahead of Kim Woojin's visit to India for the Northeast Boating Regatta 2023, where he will be performing as well as meeting and greeting his fans, the soloist spoke to us about his excitement and what CUBS should look forward to at the upcoming festival. 

View this post on Instagram
Woojin coming to India was definitely a surprise to his fans and the artist shares that he felt the same as he expresses, "'Wow' is what I first said. I was really surprised and excited at the thought of meeting Indian fans."  Since it will be his first visit to India, the soloist shares his wish list of places he would like to visit, "I have heard that there are pretty architectural buildings, so I want to see them."  Meghalaya is a beautiful state and we hope the artist gets to visit some places. 
It's a known fact that Indian food has always been popular across the globe and during his visit to India, Woojin expresses his desire to try some of them, "For food, I want to try the authentic curry which we all know is very famous." 
Following the success of his solo debut with the six-piece album, 'The moment: 未成年, a minor,' in 2021, Woojin embarked on his very 1st World Tour 'Still Dream' in 2022. The tour began in July at the Legend Club in Milan, Italy, and ended in April. Throughout the tour, the artist covered more than 27 cities with 14 in Europe, 7 in Latin America, 6 in the U.S., and 6 in Asia. Sharing his experience from that time, he credits CUBS (fandom name), "Looking back on it, 27 cities does sound like a lot. Honestly, at the time, I didn't think it was hard at all because of the thought of meeting CUBS all over the world and I had a great time performing for CUBS at every concert."
Woojin has always been true to his art, using music as a way to connect with his fans. The artist expresses that he wants to leave an impression on his fans and wants them to remember him as,  "A singer who is happily pursuing music", he further adds, "I hope CUBS who see that side of me are happy too."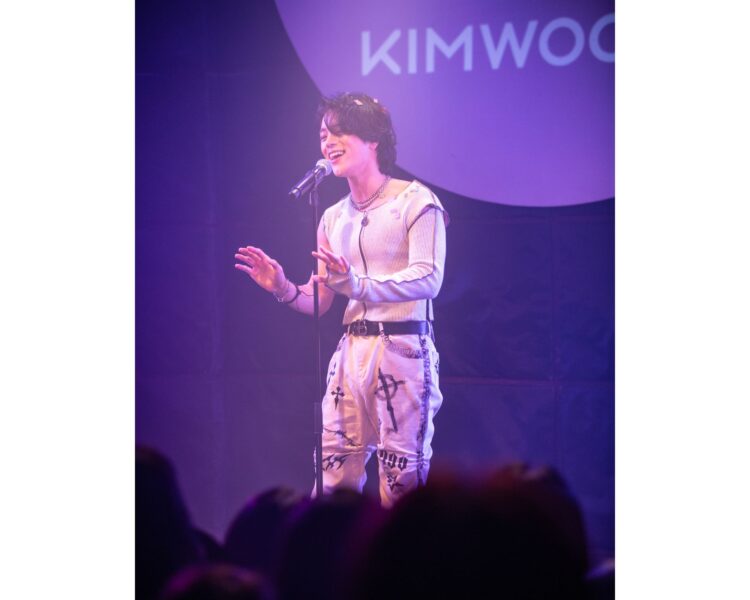 Woojin expresses that as an artist, he admires EXO and shares that the reason why he likes them is that they are the team that made him want to become an idol. 
With a plethora of talents in his grasp, the soloist has also expanded his career in acting. He will soon be seen in HBO Max's upcoming romantic fantasy 'Beyond the Closet.' Woojin became the first South Korean actor to be cast in the company's global project which is set to release this year. No doubt, CUBS will get to see a totally new side of him as an actor. When asked about it, Woojin breaks into a smile and replies, "Well…Wouldn't CUBS be looking forward to a different side of me that they usually don't see?" With this, the artist managed to build our anticipation about 'Beyond the Closet' even more! 
Woojin first debuted in the entertainment industry as a musical artist and acknowledging the impact of Indian music, the soloist expressed his regret and also his desire to familiarize himself with the Indian music industry, "Unfortunately, I haven't listened to Indian music till now. So when I go to India this time, I'll listen to famous Indian songs around me."
Movies and music go hand in hand in India and during our last interview with him, the artist has previously mentioned his love for the Bollywood film '3 Idiots,' so we asked him if he has watched anything else. Woojin pauses, smiles, and says, "I was about to talk about 3 idiots but ㅠㅠ." He shares that although he has watched a few Indian movies, 3 Idiots is his favorite. 
It has not been long since Woojin's fans heard the initial news about his schedule in India but the days of his visit/performance is almost here. Despite the rushed schedule for the event, he is well prepared with his set list and ready to greet the Indian fans, "Since it is my first time performing in India I hope the fans can look forward to the passionate live performances that cannot be experienced in videos." 
As we moved towards the end of our interview, Woojin delivers an exclusive message to the Indian CUBS, who are awaiting his arrival, "I'm really happy that I have the precious opportunity to meet Indian CUBS and I'll prepare really well to show you all a great performance. Let's meet soon Indian CUBS.❤️"
View this post on Instagram
Kim Woojin is all set to perform at the Northeast Boating Regatta 2023 on April 29 at Umiam Lake, Shillong. He will also be meeting his fans through an exclusive Meet and Greet. Tickets for both events can be found by clicking here. 
Fan of Kim Woojin? Make sure you are following us on all SNS to get exclusive content and news.
EXCLUSIVE: Kim Woojin Is Ready Now As He Talks About His Solo Debut, His Past, Cubs, India, And More
Connect with us on Instagram Twitter YouTube for more content, interviews, & news.