G-reyish is a four-member girl group consisting of Shinyoung, Yena, Yeso, and Hyeji. They debuted with the single "Turn Back Time" in 2017. The girls are currently under BIGOCEAN ENM, which was founded in 2020 as the outcome of the merger between The Groove Company, Supermoon Pictures, and Gom Pictures. 
If you have a liking for underrated artists and songs, G-reyish should definitely be one of your go-to groups. They not only have great songs and vocals, they are also very professional as seen in this extreme prank. All the girls are unique and vivacious with a strong charisma and each member's energy compliments the group's overall aura.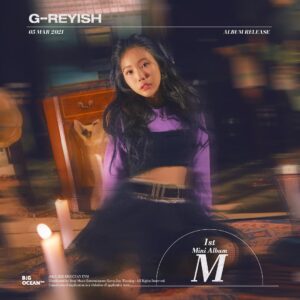 Hyeji: "Hello this is G-reyish's oldest and leader of the group, Hyeji!" Her positions in the group are main vocalist and visual.
Shinyoung: "Hello this is G-reyish. I am Shinyoung, the second oldest in the group and the team's main rapper."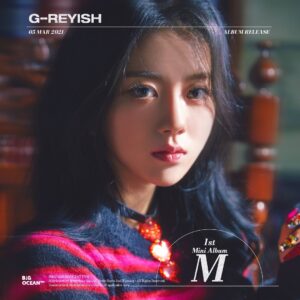 Yena: "Hello this is G-reyish Yena. I am the third oldest in the group." She is the group's main dancer, lead vocalist, rapper, and the group's center.
Yeso:"Hello I am the group's youngest, Yeso!" The maknae and vocalist of the group.
G-reyish' most recent comeback was in March 2021 with their mini-album 'M' for which 'Breath;(Blood Night)' served as the title song. The song portrays a whole new side of G-reyish that is powerful and theatrical. The song incorporates a supernatural theme and the members are beautiful vampires in the MV. The video is fun to watch as it has a good story line and hidden messages & theories to crack. After their songs like 'KKILI KKILI' and 'Candy,' which showed a summery, breezy side, 'Blood Night' showed their versatility through a new perspective. Hyeji shares, "Our first mini album 'M''s title song 'Blood Night' is a 180 degree turn from what our concept used to be! It's a very dark and alluring song. I hope we can do more concepts and show our group's charm in various ways." 
The song's concept incorporates a vampire theme and they further explains how the current concept came about, as Shinyoung says, "When we first got the song, we didn't have a fixed concept but Yena suggested doing a vampire concept and that was that."  Yena adds on,  "I really like this song. I remember hearing the song for the first time and going straight to my CEO for a vampire concept. In the music video, each member has a different concept. I have a paper airplane dipped in blood and it has a secret message on it. I think it's up to the audience to guess the meaning. " Yeso who wrote the lyrics further states , "It's a vampire concept and I focused on the lyrics a lot. I tried to express the lyrics as much as I could. The synchronization between the members was perfect as Yena suggested the concept and the rest of the members worked well to portray their feelings through the song. Although the girls are still open to what concepts they would be incorporating in the future, Yena shares, "For the future, I hope we can perform a song that expresses us."
Like almost every group, G-reyish also has their own fandom name and they are called 'Syrup.' The members share that 'Syrup' means 'G-reyish Love.' Yeso further explains, "It became short for G-reyish and Love. Our fans mean so much to us. Because of Syrups, we are here today and we will work hard for them! There are parts when I'm sorry and thankful at the same time for our fans so I always want to do the best for them." 
The journey from training to debut and post-debut is always a valuable experience for idols as they learn a lot being a part of the industry. Upon asking how things have changed for them since their debut, both Yeso and Yena agree that "although there were obviously hard times, there were more happier moments and that they all just became memories in the end." They also add that they have "gotten a more positive mindset now."  Member Shinyoung expressed, "I debuted when I was 18 years old so I really didn't know anything. But now that I'm older, I've gotten fast at noticing things and reading the room. For example, I know when I'm going to probably rehearse now." 
Though their journey has had its own share of ups and downs, Hyeji, the leader, shows her gratitude to their fans for keeping the members going, "I've been running since my debut and I'm still running. I feel thankful more and more for our fans and really feel it in my bones for the love. So I guess something that has changed is my growing love for our fans!"  She further shared her experience of being the leader, "I did worry by myself but there was actually no need to do that. The members were so accepting that I naturally became comfortable as the group's leader." 
While all the members have different interests, Yeso has always had an interest in acting.  We thus asked her what kind of roles she would like to play and whom she would like to co-star with, "I don't have much school memories so I really wanted to try acting as a student! I also want to try action as well. If there's ever a chance, I want to try acting with Jun Ji Hyun… I would be thankful to even just watch haha." 
When one looks at Shinyoung, you would probably not know that she has two sides – sportive and strong but also cute and child-like. She is a jump rope specialist and a Tae-kwon-do fighter whose hobby is collecting dolls! Shinyoung thus gives her fans an insight as she shares, "I used to do Tae-Kwon-Do since I was little but since I haven't practiced it recently, I feel like all my skills have vanished.  I've always loved dolls; my parents ran a blanket company so we always had a lot of dolls in the house. However, I want to show a more mature side of me so when I'm not alone, I try to act more grown-up."
Fans of KBS "The Unit" would have definitely watched the "Cherry on Top" performance and seen Yena. The G-reyish member shared her experience and the emotions she felt while she was on show, "I was only 18 years old and a total rookie when I went on the show. I had to represent G-reyish by myself, which was a big part I had to take, and I worked day and night to perform my best. In the end, it really helped me grow as a singer. 'Cherry on Top' is also a song I love myself. I was blessed to have met such nice members from the show and this is one of the songs that fans still love to this day. When I went on 'The Unit,' it was my goal to let the world know more about G-reyish and I was so glad that I was able to accomplish that."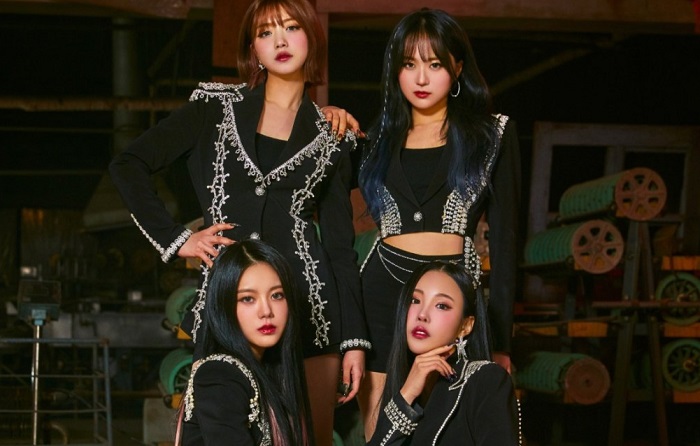 The members of G-reyish have a great team spirit and they bring out a fun energy to the room.  The girls chose their favorite songs, spoke about concepts that they would like to try in the future and fellow groups. Yeso starts off and says, "My favorite song is "Blood Night"! I want to try something along the genre of hip hop like BLACKPINK. This is just my personal preference. But when I think about my group, I would like to try something enchanting and innocent one day since we've never tried something like that!" Shinyoung adds on, "I've loved performing "Blood Night" and "SHINING MOMENT." Next time I want to try more of a refreshing concept." Yena ponders over her favorite song and ends up choosing three, "For the title song… "Blood Night"… "KKILI KKILI?" "Blood Night" was a concept we had never tried so it was fun but "KKILI KKILI" became my favorite song because it was a song that really fit our group and all the members looked so nice in the performances. I also can't forget "SHINING MOMENT." It's a song that all of our members participated in song writing and it's our official fan song so it has a special place in my heart. I want to try new concepts in the future like Oh My Girl— something dreamlike." Hyeji clearly has a favorite as she quickly shares, "I think my favorite song is "SHINING MOMENT" from our mini album! I want to try a song that goes well in the summer, something fun and refreshing!"
The K-Pop industry is competitive and the people working in this industry, especially the idols, work towards success and creating an impact on their fans. G-reyish shared the kind of impression they want to leave. 
"I want to be someone who can still stand on stage after five years and someone who can help Syrups." – Yeso

"I wish it becomes a society where there can't be a world without G-reyish. I want more Syrups to be a part of our fan group as well. After five years, I'll be 27; I hope to have more Syrups in my life." – Shinyoung

"Now that time has gone by, we aren't rookies and we're a group that's been debuted for five years. We hope to get more recognition for our hard work and I hope that in five years, I'll be a better singer or actor." – Yena

"To be someone's role model is probably my main goal. Someone the Syrups can be proud of calling themself a Syrup!" – Hyeji
As we came towards the end of the interview, the members of G-reyish individually sends a message for their Indian and International Syrups!
 "Indian Syrups~ When COVID-19 calms down a lot, I would love to visit India and meet you all! Thank you for loving G-reyish and till the day we meet, stay happy! Thank you always and I love you." – Hyeji
"International fans and Indian fans~ Hello this is G-reyish Yena. Thank you for all the love you give us–even from a distance. It's so sad that we can't see each other in real life but please know that our hearts are together! When COVID-19 gets a little settled, I would love to meet you all. Stay safe but most of all, stay happy. I love you all. I love it when I received letters from international fans and I really want to meet them. When COVID-19 is gone, I would love to meet our Indian Syrups!" – Yena
 "Namaste~ This is G-reyish Shinyoung. We are so thankful for all of your love and support and I would love to meet our Indian Syrups one day. Thank you!" – Shinyoung
 "Thank you for cheering and supporting us on even from a distance! Please be watching us~ We'll do our best!" – Yeso
Follow G-reyish on Instagram and twitter to know more about them. 
Find us on Instagram Twitter YouTube for more Korean Entertainment content, interviews, & news.