BDC  is a 3-member K-POP group under BRAND NEW MUSIC. BDC stands for 'BOYS DA CAPO.' DA CAPO means "Let's always go back to the beginning."
The trio wants to start all over again while not forgetting where they had begun from and always doing their best. However, in their own words, they are a 'no regret group', meaning you wouldn't regret listening to them.
BDC consists of KIM SI HUN, HONG SEONG JUN, and YUN JUNG HWAN. They debuted on October 29th, 2019 with 'REMEMBER ME'. Although it hasn't been long since the group debuted, they have gained international fans fairly quickly. Their recent comeback, 'MOONLIGHT' hit 5 Million views in one week and currently has over 7 Million views and counting!
When asked what were their thoughts on this achievement, BDC shares that they felt surprised but they are thankful to their fans for all the love and asked everyone to keep an eye on them as they will work harder. The current comeback is a part of Intersection: Contact, which is the last album in The Intersection Series. BDC reveals the idea behind it,  "The concept behind our series is that there is BELIEF in the fact that there are different versions of us in parallel universes. Then we find the gateway to those universes through DISOVERY, and last but not least, we meet through CONTACT. It's a 3-part series which really pulls the album together."

Almost 2 years after their debut, the group reminisces about how they started their journey in K-POP. The group's youngest JUNGHWAN, for instance, started performing musicals at age 14. On receiving casting calls, he decided to become an idol. All the 3 members of the group were also part of the Survival show Produce 101 and the members looked back at that experience and individually shared what has changed the most for them and how they have grown.
SIHUN: Firstly, we feel a lot more at ease now and I've gained a habit where I'm aware of the camera and have the foresight of how to appeal better to the camera.

SEONGJUN: I've become a lot more hungry in regards to my career and I also want to try out a lot more things. So, I've been practicing even more.

JUNGHWAN: I've learned to look at the bigger picture. I've learned that I need to look at the road to my future instead of just looking at what's happening right this instant.
Discussing about their USP as what sets them apart and makes them unique from other group, the leader SIHUN states, "Each of our releases has a ballad in it. I think this allows us to confidently say that, not only are we confident in our performance capabilities, but we are also confident about our live vocals as well." SEONGJUN adds on to it as he mentions that the fact that they are a 3 member group is another unique point and that they are really great vocalists, "I believe, the slow songs that are included in each of our releases is also a charming point about us." According to JUNGHWAN, BDC doesn't have a set sound, "I think the fact that we can release many types of songs to fit the trend is a really big advantage for us."
BDC is one of the rare groups where all members have a strong desire to write their own music. Group's leader SIHUN has been involved in writing the song 'MIRAGE' and shares, "I'm just so honored that my name even shows up on the album credits. I'll try even harder from now on so that my name appears on more credits!" SEONGJUN, on the other hand talks about the songs that he would like to write in future, "I would really like to try a public friendly love song as well as a song that really expresses my emotions."
The trio's strong vocals are visible in the high-tone track 'LOVE, TRUST & DESTINY,' which has been cited as the most difficult song that they have worked on, by the group as it was not only high toned but also emotional. SEONGJUN and JUNGHWAN shares that although everything was really hard, this is also their favorite track from their discography.  SIHUN makes a shy confession as he laughs and says, "For me, my personal favorite track is the song that I wrote, 'MIRAGE'."
When we asked who would they choose as their bias in BDC, if they were a 'FINE' (fandom name), each one chose themselves and gave additional reasons while sharing a laugh. SIHUN stated, "For me, it's me. No need for reasons when you like someone" as he broke into a laughter. SEONJUN also shared that he wish it was true as he would pick 'HONG SUNGJUN' (his real name) while the maknae, JUNGHWAN said,  "Me! Because I'm much more down to Earth than one expects?"
BDC is definitely a fun trio! Let's continue to know them better from the members themselves.
Namaste Hallyu (NH): Namaste! Congratulations on your comeback! Please introduce yourself to our readers. 
KIM SI HUN: Hello I'm BDC's leader KIM SI HUN. Thank you so much and please keep an eye out on us.
HONG SEONG JUN: Hello! I'm BDC's sweet voice HONG SEONG JUN and I hope to become an all around entertainer!
YUN JUNG HWAN: Hello I'm BDC's main vocal, YUN JUNG HWAN. Thank you always for all the love and we will try even harder in the future.
NH: If you were to introduce BDC in three words, how would you do it? What kind of concept would BDC like to try in future?
SIHUN: No Regret Group. (No regrets when listening to us) I want to try a dance song where the vocals are the center of the song! Like our seniors, BTOB!
SEONGJUN: All Round Idols. I want to try a lot of different concepts – a bright song emotional song, love song, etc.!
JUNGHWAN: Clean White Background. Because no matter what colour is placed, white is the one that best matches to it. There are so many concepts I want to try, but if I have to choose one, I would like to try a concept that mixes in traditional Korean culture.
NH: Your group debuted right before Covid-19 started and you haven't been able to really interact much with your fans in person. What do you wish to do after the pandemic? Which country would you like to visit?
SIHUN: We tried our hardest to meet our fans while following the social distancing rules, but once again the situation is that we cannot meet with them. I hope things get better because we really want to meet our fans not just in Korea but all around the world without any restrictions. Right now, I just want to go anywhere abroad, wherever 'Fine' is.
SEONGJUN: It makes me so sad because right now I just want to see as many of our 'Fine' as possible. As long as Fine's are there, we are willing to travel to them!
JUNGHWAN: There are too many countries I want to visit so it's impossible to choose. But first and foremost, I want to be able to invite our fans to a fan meeting or concert, which we haven't been able to hold because of the pandemic.
NH: Although it has not been long since your debut, BDC have gained fans internationally as well, what are your thoughts about it?
SIHUN: I'm just so sorry that we can't go see our international fans.  I hope the situation gets better so we can hurry and go greet our fans.
SEONGJUN: Thank you so much. I hope Covid-19 situation gets better so we can go meet our fans quicker.
JUNGHWAN: I am so thankful because I feel like I can truly feel the saying, "there are no borders with music."
NH: Among all the songs that BDC has released so far, which song would you say describe BDC the most?
SIHUN: I think it's 'DA CAPO' and 'Remember Me' as these songs show our color and emotions the best while differentiating the genres of the songs.
SEONGJUN: 'DA CAPO' because the meaning of BDC is the same, "Let's always go back to the beginning."
JUNGHWAN:I think every one of our title track always really describes us the best.
NH: Lastly, any message for your 'FINEs' in India?
SIHUN: To all our FINEs in India! We'll do whatever we can to hurry and visit you guys! Let's all beat this together and only have good things happen from now on! We love you!
SEONGJUN: Indian FINEs! I'm so sad we can't see everyone due to the pandemic. I really want to hurry and see all of you! Please take care of your health and even though this is a rough time for all of us, I promise that when Covid-19 is over, we will come visit all the FINEs in India!
JUNGHWAN: Thank you to all FINEs around the world that are cheering us on despite not being able to meet us. If India requests us, then we promise to go!!
BDC might have just had their comeback but they are already preparing to make their next comeback with a space – themed concept on August 10th with a special single, 'MOON WALKER'. With its upbeat sound and the teaser images, their fans are eagerly anticipating it.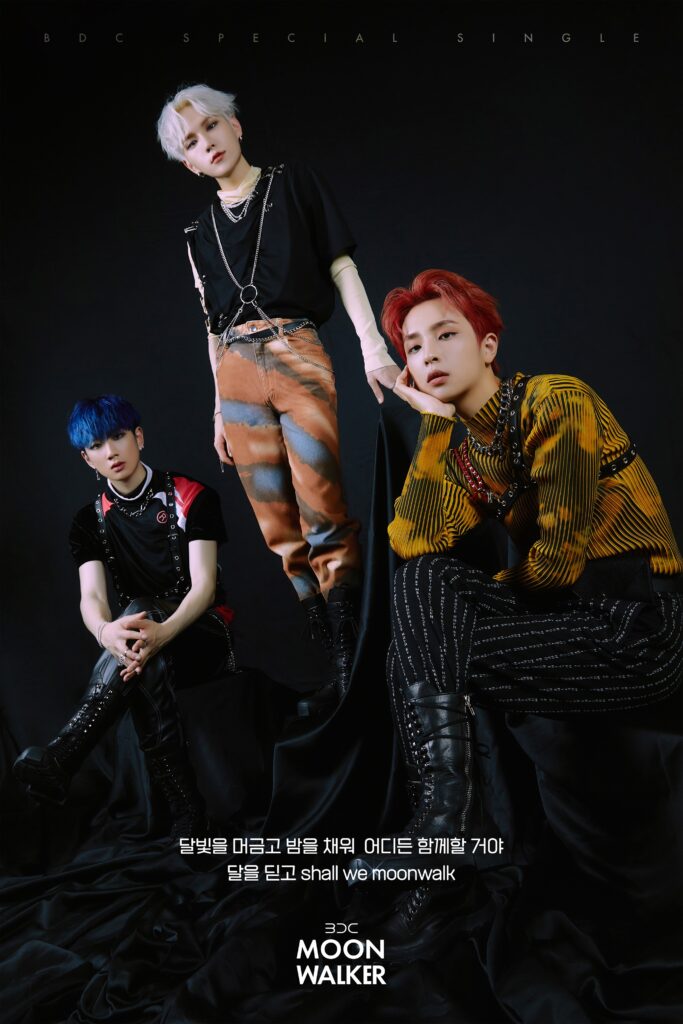 As we reach towards the end of the interview, the trio shares where they see themselves in future and their dream project.  SIHUN expresses his wish to be the group that appears on the top of the charts whenever they release music while SEONGJUN shares that five years from now, he wish BDC is a group that many people know, and also a group that is able to have a #1 song on the charts. JUNGHWAN shares his perspective when it comes to dream projects and the future as he says, "Honestly, I've yet to think about it. Because I feel like if I have a goal then it might feel like the end once the goal has been reached. But I want us to always try our hardest and reach for the stars."
With the concept of 3 member group and strong vocals, BDC is a group to watch out for and they are definitely a Clean White Background group because no matter what colour is placed or concept they choose, they will match perfectly to it. The Intersection Series maybe over, but for BDC, this is just the beginning as they will be back very soon with different music and style. 
Find us on Instagram Twitter YouTube for more content & news