At a Distance, Spring is Green is also known as (멀리서 보면 푸른 봄) A Blue Spring from Afar, From Distance, Blue Spring, From a Distance, a Green Spring, Seen from a Distance, Green Spring, Blue Spring From a Distance
Starring Park Ji Hoon, Kang Min Ah and Bae In Hyuk, this drama is adapted from the webtoon of the same name. It began to air on Mondays and Tuesdays at 21:30 (KST) from June 14, 2021, to July 20, on KBS2. The genres of this drama are Idol Drama, Romantic Comedy, Friendship, School Youth.
Plot Summary
The story concentrates around Yeo Jun (Park Ji-hoon) a freshman at Myeongil University. Yeo Jun seems to have everything together but he has another side of his life which he cannot expose to anyone and he holds a lot of pain hidden inside him.
During a group project, he meets Nam Soo-Hyun (Bae In-hyuk), the 3rd year in his department who is a straight-A student but a social outcast with a difficult character. Coming from a poor family, Soo-Hyun is only worried about earning school credits and money to support his family. He doesn't have time for friends and even less time for wasted, rich kids but  Another 3rd year, Kim So-bin (Kang Min-ah) who is somewhat average in everything and struggles to stand out enters the fold, and the three forms an unlikely, strange trio.
Sneak and Peek at Characters
Park Ji-hoon as Yeo Jun
The handsome second son of a wealthy family, he is a first-year business student at Myeongil university. Yeo Jun is a person that appears to have everything pretty in life. He comes from wealthy, recently got into a university, and is loved by his peers everywhere he goes because of his good looks, charming personality, and great social skills.  He takes an interest in Nam Soo-Hyun , a senior in his department and from their unlikely friendship and chemistry, he gradually begins to reveal his true self and further builds relationships with those around him.
Kang Min-ah as Kim So-bin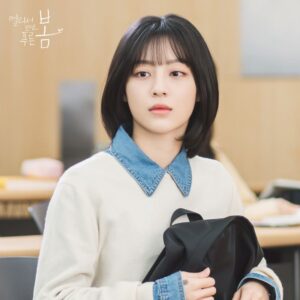 A 3rd year in the business department of Myeongil university. She's a social outsider who is conscious of what others think and is very timid and ordinary. She's very hard working but is often disappointed in the results as they don't match her efforts. She meets Yeo Jun, a popular freshman in her department, and they began a strange and confusing relationship.
Bae In-hyuk as Nam Soo-hyun
In 3rd year at Myeongil University, Nam Soo-hyun is a cold perfectionist who gets into confrontations, big and small, with the people around him. His father died when he was young and his mother is sick so he works part-time to support his family including his little brother. He intentionally closed his heart to others and became an outsider who doesn't make time for friends. Then he meets Yeo Jun, an insider he should clash with but becomes very close to in their shared pain and unlikely chemistry.
Why you should watch this?
The actors fit with their roles and the way they perform and expresses their emotions really brings out our own emotions. The way Yeo Jun showed his emotions when he opened up about his painful world was so touching that you definitely need tissues nearby. Seeing Nam Soo-Hyun struggling with his life to earn money reveals a bit part of the real-world out of the drama as well. Besides the cast, the story line and the acting, this drama concentrates on the struggles of college students and thus feels like a realistic drama. We also get to know that the way some people presents themselves is maybe not their true self. We should be aware or have it in our mind that if everything seems good, perhaps there are worse things that happened before.
Have you watched this drama yet? Do let us know your opinion! 
Connect with us on Instagram Twitter   YouTube for more content, interviews & news
By Kanan Agarwal