Wanted to venture into the world of Korean literature but didn't know where to start? Let us nudge you in the right direction.

Books are an important part of any society. They are cultural products that reflect the values and the working standards of the culture that produces it. But foreign literature can be a little intimidating to explore if you don't know where to start. So, we have compiled a list of four Korean authors to guide your way into Korean literature. Happy reading!
Kyung-sook Shin
Our first author is not only the first Korean but also the first woman to win the Man Asian literary award for her book, "Please Look After Mom". The book is a brilliant masterpiece that centers around the disappearance of a mother and her family's quest to find her as they slowly realise they might not even truly know her. The story is told in Rashomon style by the eldest daughter, eldest son, husband and finally ends with a devastating conclusion by the mother herself. The book explores a common theme in Shin's work- the rapid urbanization of Korea and its hard-hitting consequences. Apart from "Please Look After Mom", her most famous work has been, "A Lone Room" (or The Girl Who Wrote Loneliness). Shin was awarded the Manhae Literary Prize and the Prix de l'Inapercu for the same. The book is an autobiographical work, set against the backdrop of 1970s' South Korea. It follows an unnamed teenage girl who aspires to be a writer but can't even afford to go to high school. Having been a part of the 368 generation, Shin meticulously maps out the socio-political issues of the era and weaves a personal but powerful story. Courageous and skilled, Shin is one of the most impactful contemporary authors.  
Han Kang
Han Kang might be the most internationally recognized Korean author of our time. Her book, "The Vegetarian" is a modern masterpiece. It is about a young woman who announces to her family that she is turning vegetarian. This seemingly mundane decision of her leads to devastating consequences from divorce to her family renouncing her. It is striking how everyone but the protagonist seems to have stake in what she chooses to do with her body. Kang's most recent work, "The White Book" is an autobiographical piece about the death of her elder sister just hours after she was born. The form, style and content of this book is unusual and interesting. The book elevates the value of her sister's death in a way that essentially gives her a new life. What you are most struck by in her books is her intelligent writing while having simplistic prose. Reading her books is truly a transcendental experience.  
Kim Young-ha
An existentialist often bordering on nihilism, Kim Young-ha's books often underline the frank absurdities of everyday life. His book, "I Have the Right to Destroy Myself" is about a man who goes around bringing suicide for "clients" he comes across. He does so because he believes the end might be happier and more fulfilling than life itself. The book usually sparks polarizing opinions among readers but is definitely something one should pick up. Kim Young-ha is not only famous in the literary community but also in film. His book "A Murderer's Guide to Memorization" was turned into the movie "Memoir of a Murderer". While this book steers clear of politics and history, his other work "Black Flower" nestles right into it. In 1905, 1033 Koreans were promised the "American Dream" and shipped off to Mexico where they had to work on plantations as indentured servants. Kim depicts the plight of not only Koreans but also indigenous Mexican culture that suffered at the hands of colonial Christianity. If you like history, you will absolutely love this book! 
Suki Kim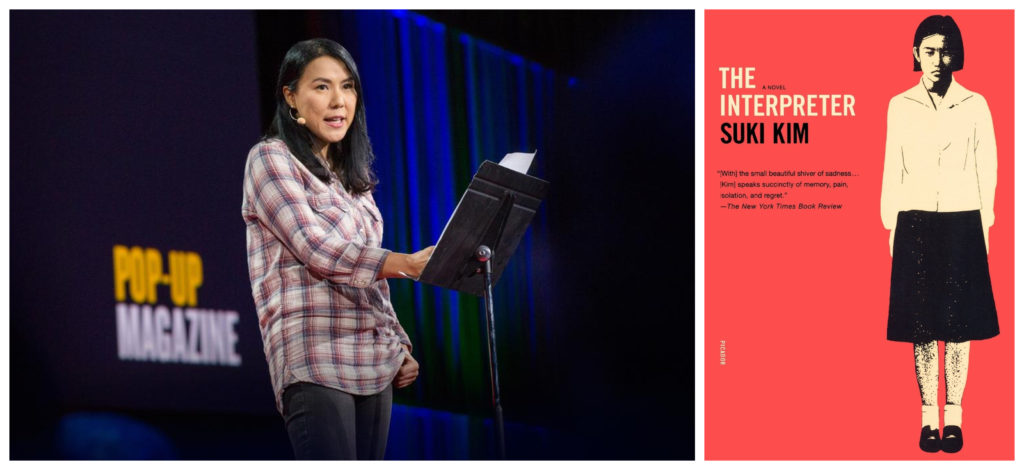 The last author on our list received a standing ovation from Bill Gates for her TED talk and that's not even the most interesting thing about her. Suki Kim is a writer and a journalist who lived in North Korea for 6 months as she taught English to the children of North Korea's 1 percent. In her 2014 work, "Without You, There is No Us" she details the misinformation and propaganda the government constantly perpetuates. So much so that her students, who studied in one of the most prestigious universities of the country, did not even know what the Internet was. Apart from journalistic work, Kim's most famous novel is her debut novel titled, "The Interpreter". It revolves around a Korean American woman Suzy Park who works as an interpreter. Her dual identity is constant source of contention for her as she tries to locate where she fits in. During one of her court cases she discovers that her parents' death was not due to a robbery, as had been first suggested, but might be a part of a larger web of secrets. It is half thriller, half character study and complete brilliance. 
Which authors or books intrigued you the most? Have you read any of these books? Let us know in the comments!