The upcoming action thriller movie 'Devils' starring Jang Dong Yoon and Oh Dae Hwan has released the premiere date along with a teaser poster.

The teaser poster features the two main characters, Jin Hyeok and Jae Hwan, who get entangled in a web of bad luck. The two men are shown with their faces partially obscured, and their eyes are filled with intensity. The poster also features a fluorescent green substance that appears to be bloodstains. The overall atmosphere is eerie and suspenseful, and it hints at the dark and twisted nature of the film's story.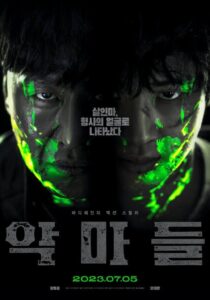 Directed by Kim Jae Hoon, this unique film that tells the story of two men whose bodies are switched at the moment of arrest. The film will explore the themes of identity, revenge, and redemption.
'Devils' is confirmed to be released on July 5.
Connect with us on Instagram Twitter YouTube for more content, interviews, & news.