On December 1, 2018, Innisfree completed 5 years in India.
As Korean beauty fans, all of us know how well Innisfree has been doing in the Indian market. With their skincare cum beauty products comprising of innovative, natural ingredients and minimalist packaging, Innisfree is a must in every skincare and/ or beauty enthusiast's routine.
With Christmas around the corner, the renowned South Korean brand had more than one reason to celebrate. The event was named 'Merry Green Christmas' and was held in the lush gardens of Shangri La- Eros hotel. There were various stalls for everyone to enjoy some games, DIY activities like candle making, Christmas tattoos, etc. The food counter served some lip smacking delights like bibimbap, noodles, hot dog, mini-burgers and French fries, complete with tiramisu mousse cake and assorted ice creams for dessert. However, the photo corner attracted many as one could get clicked with Santa and a Korean couple dressed in traditional Korean attire. Moreover, the fact that the photographs were instantly printed, framed and distributed was a plus!
Even with so much going around we couldn't help but notice most of the guests with impeccable style. We definitely gathered some fashion 'inspo' from these ladies so we've listed 5 of our favourite looks to help you pull together an outfit that'll keep you toasty and trendy:
50 Shades of Grey: One of the writer's personal favourites, Prashanti's (28) outfit has everything it takes for it to look like a million bucks. Dressed in everyone's favourite winter colour- grey, Prashanti interrupts the monotony with a bright yellow sling bag and red earrings from Nagaland. Her envy-inducing blazer is from H&M while her skirt is thrifted from Thailand. Prashanti gets a round of applause for her fashion choices.
Damsel in this dress!: Delhiites are immune to the winter chill and Sukirti (24) proves it right with an outfit that makes her look beach ready. Donning a pretty, white dress (Zara), this Jin biased ARMY looks nothing less than graceful. Brownie points to Sukirti for the puffed sleeves and those large buttons running down the dress.
Pop of Purple: Lakpa (24) earns all the style points for lifting her otherwise monochrome outfit with a bright purple blazer (Topshop). A blazer is a must for this season and Lakpa knows how to work it right. She kept the black in her outfit far from boring by breaking the texture with leather pants and embellished loafers (Pantaloons). A Sehun biased Exo-L, Lakpa looks like she's ready to walk the ramp!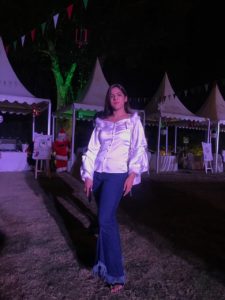 Retro Future: Hasveen (25) turned heads in her top-to-toe retro ensemble. She manages to pull off this extravagant look by keeping her colours simple. A designer and stylist by profession, she shows off her self-designed top with pride. A boat neck, voluminous sleeves, silky texture, bell bottoms- everything we love in one outfit! Sounds daring, doesn't it?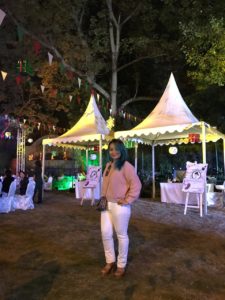 Sweet and Simple: Teal haired Esther (30) already won our hearts for choosing a unique hair colour. However, wearing the right colours becomes all the more important if your tresses are already dyed so vibrant. Thus, we loved how Esther chose to stay minimal with a light pink, knitted sweater (H&M) and white jeans. With an easy to steal look, Esther looks effortlessly fashionable.
Let us know which look will you be plagiarizing this season 😉