Crash Course in Romance explores the bittersweet romance between a banchan store owner who enters the Korean college entrance test war and a top hagwon teacher. Starring Jeon Do-yeon and Jung Kyung-ho, eight episodes of the drama have already been aired and to be honest it is one of the best RomCom dramas with mystery till date.
Currently airing on Netflix from 14th Jan, the drama synopsis reads, "A mother with a heart of gold navigates the cutthroat world of private education when her daughter tries to join a celebrity math instructor's class".
If you like to watch rather than read, this drama is a must-see.
Still, need to be convinced? Here are some reasons why you should watch 'Crash Course In Romance'!
1. Laughable Crazy Dynamics
Apart from the likable characters, the chaotic dynamics will hook you to this rom-com. Choi Chi Yeol and Nam Haeng Seon get off on the wrong foot and eventually get tangled in unexpected circumstances. This gives a bitter start to their relationship and what follows is hilarious bickering that will have you laughing non-stop.
From bittersweet relationships to the 'disaffection' between Nam Haeng Seon and Kim Young Joo to love triangles between high-school students in the drama, this show has plenty more elements to keep you entertained throughout the series.
2. Exquisite castings
Choi Chi Yeol

He's a cool Math instructor with sparkling charisma, positive energy, and an engaging teaching style that turns pupils into passionate admirers. But all of his prosperity and his dazzling public image make him egotistical. He has an unpleasant habit of upsetting others, shows little regard for his subordinates or even superiors at times, and has a bad temper when stressed. Despite being a narcissist, our "Trillion Won Man" is a star in the sphere of private education, with parents lining up to enroll their children in his math classes.
Nam Haeng Seon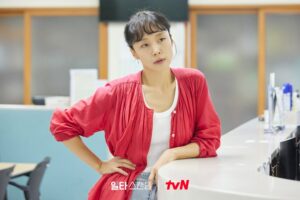 Nam Haeng Seon is a former national athlete and proprietor of a banchan business. She has a complicated connection with her daughter (Nam Hae Yi), or, to be more precise, her niece, whom she adopted when her sister abandoned the child on her doorstep. She may not have given birth to her, but she constantly strives to offer Hae Yi the same love and care she would have given to her biological daughter. Haeng Seon also looks after her mentally challenged younger brother. Her family's financial situation forces her to be the breadwinner.
Supporting Casts
Oh Eui Shik plays Haeng Seon's adorable disabled brother, Lee Bong Ryun as the bubbly Kim Young Joo who has a crush on Chi Yeol's secretary Ji Dong Hee (Shin Jae Ha), Jang Young Nam as the obsessive Jang Seo Jin, a working mother of two, and Kim Sun Young as the ambitious but condescending Cho Soo Hee who is willing to bring others down for her daughter's sake. The drama's high school kids each have their tale that adds to the overall plot.
3. Knowledge of the K-Education System
South Korea's ultra-educational system is showcased in this drama. It depicts the severe mental labor that high-school students go through every day to pass difficult tests, as well as how heated rivalry – not just among students but also among their moms – may lead to planning and plotting to achieve success even at the cost of others' loss. The harsh reality of mothers and their obsessive need for their children to be first in everything.
4. Mood Elevator
One of the many reasons why K-dramas are so addicting is that they are incredible ways to lighten up. With a flick, you'll be unable to take your sight away from the screen. "Crash Course in Romance" does an excellent job of pulling you in, to the point that you won't want to miss a single moment. Yeah, You read it right, not even a Single Moment! Though the drama contains has its own share of mystery and suspense, it is the ever-changing and refreshing narrative that shocks us at the most unexpected times that increases our anticipation. The fascinating narrative, the combination of many genres, the appealing characters, and so on, makes the drama compelling and leave us wanting more.
5. A touch of mystery
Yang Hee-Seung, who composed iconic singles like Oh My Ghost and Weightlifting Fairy Kim Bok-Joo, worked her magic once more with Crash Course in Romance. The series swings between romcom and mystery thriller, providing viewers with a pleasant middle-aged romance and just a pleasant middle-aged romance with a mystery plot in it. Crash Course in Romance is a romcom, but it also has a mystery that will leave you with questions and on the top of your seat. Even though we're only halfway done (eight episodes), the clues we've seen so far indicate one guy – who may or may not be the culprit.
The eight episodes already got us hooked to our seats and we are eager to see what the next episodes will be! Here are our five reasons to watch the drama and this should be enough reason to pique your interest! Let us know if you're watching the drama!
'Crash Course In Romance' is slated to have 16 episodes and will air every Friday and Saturday.
Connect with us on Instagram Twitter YouTube for more content, interviews, & news.