Our Beloved Summer (그 해 우리는) is a South Korean romantic comedy television series that is currently airing. It is directed by Kim Yoon Jin and the main cast includes Choi Woo Shik as Choi Ung, Kim Da Mi as Kook Yeon  Soo, Kim Sung Cheol as Kim Ji Ung, and Roh Jeong Eui as NJ. It is promoted as "Studio N's first original" series and is also available on Netflix.

 Cast and Plot
The series is a coming-of-age narrative about a couple who broke up five years ago and pledged to never see each other again, but who wind up meeting each other and are compelled to reunite remake the documentary they shot in high school that was viral. Their conflicting feelings and growth are portrayed in the series.
The Drama
The narrative begins with a 19-year-old Choi Ung, who is getting recorded for a documentary, and his seat partner is Kook Yeon Soo, the class topper. Being the class topper (Kook Yeon Soo) and the worst-performing student (Choi Ung), both of them are scouted to be filmed for a documentary. However, due to clashing personalities, the duo always manages to irritate one other in some way. During filming, they are asked what they wanted to be in ten years and Yeon Soo states that she would be good at anything she did, while Choi Ung says that he just wants to live a calm life without doing anything.
Fast forward to 10 years, Yeon Soo works as a public relations expert and is struggling at her workplace, whereas Choi Ung is enjoying a peaceful life as a free-spirited building illustrator under the pen name Ko-O. Choi Ung keeps his identity as a budding illustrator a secret with the help of his manager and close friend, Ga Eun Ho. 
The ten-year-old documentary starts to get popular due to the irresistible chemistry between Yeon Soo and Choi Ung and people start asking for a follow-up to know how the duo are doing in the present time. The task of creating the documentary is handed over to Ji Ung, who is also a close friend of Choi Ung. Rounding up the main cast is NJ, a famous celebrity who is smitten by Choi Ung.
Yeon Soo is handed over the task of recruiting Ko-O for the promotional activity of Soen Shop's grand opening. However, she soon discovers that Ko-O is Choi Ung and she is not received very well when she goes over to meet him. It is then revealed that Yeon Soo and Choi Ung had dated over five years and had ended things on a bad note. Choi Ung had also stated that he would sprinkle her with water and salt if he ever saw her again after the break-up (which he hilariously did). Choi Ung refuses her project quite pompously, however, he soon discovers that the building has been designed by Jean Ferrat, his favourite architect. Choi Ung wants to do the project but he doesn't know how to approach Yeon Soo. Ji-Ung also decides to do the documentary on Choi Ung and Yeon Soo. 
The Cast
Choi Woo Shik as Choi Ung

He's a free-spirited illustrator and. Yeon Soo's ex. They dated for about 5 years before breaking up. He is a wonderful artist and quite simple and immature. Ko-O is his pen name and he is quite famous.
Kim Da Mi as Kook Yeon  Soo

Yeon Soo works as a practical public relations professional. Because of their demeanour, she is often considered ruthless and high tempered. She had no desire to meet Choi Ung again but has to face him due to work.
Kim Sung Cheol as Kim Ji Ung

A filmmaker tasked with remaking the Choi Ung and Yeon Soo documentary. He has been Choi Ung's best friend since elementary school, and they have the same name, 'Ung.'
Roh Jeong Eui as NJ.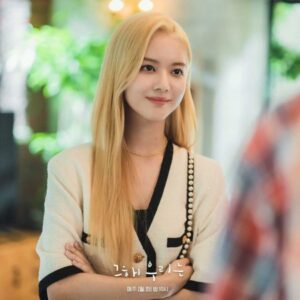 A top idol dubbed 'NJ,' who is a star and never fails to take first place. She gets attracted to Choi Ung since he is a good match for her personality. He's a knucklehead who ignores her, which has piqued her attention.
Verdict
The narrative of this K-Drama isn't very different to that of other romcoms. It does, however, put an entertaining spin on it with the documentary format. The delicate balance between the main lead's emotions and the element of a documentary that is expected to spark their romance again is something to be excited about. Overall, it's a delightful drama, and based on the first two episodes, it's going to be a fantastic rom-com.
And that's it for episodes 1 & 2. Are you watching this drama?  Are you enjoying it as much as we are? Let us know in the comments!
Connect with us on Instagram  Twitter  YouTube for more content, interviews & news
By Kanan Agarwal