K-Dramas to Look Forward to in 2019!
Posted by : Haya
Last updated on January 11th, 2019 at 05:25 pm
A new year calls for new K-dramas to get hooked on!
It can be argued that 2018 was a rather slow year for K-dramas, with only a few shows like I'm Not A Robot, What's Wrong With Secretary Kim and My Ajhussi gaining the most attention. But with all of our favorites (see: Jung Il-woo, Park Bo-young, Ji Soo, Nam Joo-hyuk) making a comeback this year, 2019 sure looks like a promising one! Here's 9 K-dramas to look out for in 2019:
Asadal Chronicles
The drama revolves around the lives of the people of the ancient city of Asadal, the capital of Gojoseon as they grow through the trials and tribulations of love and power. Eun Sum (Song Joong-ki), a cursed child from the Wahan tribe, is destined to bring disaster to Asadal. He later becomes a conqueror of Asadal, taking it from city-state to empire. Ta Gon (Jang Dong-gun) is a war hero and dreams of becoming the first King of Asadal. Tan-Ya (Kim Ji-won) is also born with the same curse as Eun Sum and her ambition is to become a politician. She is Eun Som's first love. This is the first time Song Joong-ki and Kim Ji-won will be sharing a screen after the hit drama Descendants of the Sun. Scriptwriter Park Sang-yeon (Six Flying Dragons) and director Kim Won-seok (Signal) will be working on the production.
Touch Your Heart
Ever since Goblin ended, fans have been desperately wishing for one of their favourite couples to get back on the screen again. Alas! The drama Gods have heard our wishes and we have been granted Touch Your Heart. Starring Lee Dong-wook and Yoo In-na, Touch Your Heart is based on a webtoon with the same name. It is a romance between a lawyer and a top actress. To prepare for a role as a secretary for a lawyer, Oh Yoon-Seo (Yoo In-na) starts working for Kwon Jung-Rok (Lee Dong-wook), an arrogant and cold-hearted attorney. The show will premiere in January 2019 on tvN.
Watch the first teaser trailer!
Abyss
Park Bo-young headlining any drama is always a good thing but add some eccentric plot and it's the perfect recipe for a great drama. The tvN drama Abyss tells the story of a beautiful female prosecutor and an ugly man who are transformed into an average looking woman and a handsome man by a magical abyss. In search of the truth of what happened, Park Bo-young's character discovers true love.
Love Alarm
Love Alarm is another Netflix gem that will air on both Netflix and tvN this year. It's an interesting story about a world where an app alerts users every time a person who likes you is within 10 meters. Based on the webtoon with the same name by Chon Kye-young, this drama will star Song Kang, Kim So-hyun and Jung Ga-ram. The 8 episode Netflix original series will be directed by Lee Najeong (Fight My Way) and writers will include Lee Ahyoun and Seo Bora.
Romance Is a Bonus Book
Lee Jong-suk is returning to the screen with Lee Na-young in Romance Is a Bonus Book. This tvN drama is scheduled to air on January 29, 2019. Lee Na-young plays Kang Da Ni who used to be a popular copywriter but is now broke and unemployed. She struggles to find a new job due to being overqualified so she applies at a publishing house under false pretenses. Lee Jong-suk plays Cha Eun-ho, the chief editor of the same publishing house.
Dazzling
2019 seems like a year of interesting plots. Nam Joo-hyuk and Han Ji-min will star in JTBC's Dazzling, a fantasy romantic comedy. It has a unique plot involving a young woman who wants to become an announcer and suddenly finds herself 70 years old. Kim Hye-ja will play the 70-year-old version of this character. On the other hand, we have Nam Joo Hyuk who plays a young man who wants to become a reporter but now lives a meaningless life. The drama comes from the PD of My Wife is Having an Affair This Week so my expectations are a little high. Nam Joo Hyuk's last drama was widely criticized so I'm curious to see how this one will play out.
Haechi
Jung Il-Woo is back. Should I say it louder for the people in the back? JUNG IL-WOO IS BACK. His first post-military project is a fusion sageuk drama called Haechi (or Hatch). It is set during the Joseon Dynasty era and revolves around a prince, a damo, a clown and a man perpetually preparing for his exam to become a public officer. Prince Yeoning (Jung Il- woo) belongs to a lower class and is thus never recognized as a royal. Yeo-Ji (Go Ara) is an expert damo at the Saheonbu. She is also skilled at martial arts and foreign languages but gets constantly discriminated against because of her gender. Park Moon-Soo (Kwon Yool) dreams of being a public officer. He's not very smart but is kind and compassionate. Dal- Moon (Park Hoon) will play a court entertainer, who fools around with the court gisaengs and impresses with his martial arts skills. This unlikely group teams up to make Prince Lee Geum the King and reform the Saheonbu. This SBS drama is one I am definitely looking forward to!
Eulachacha Waikiki Season 2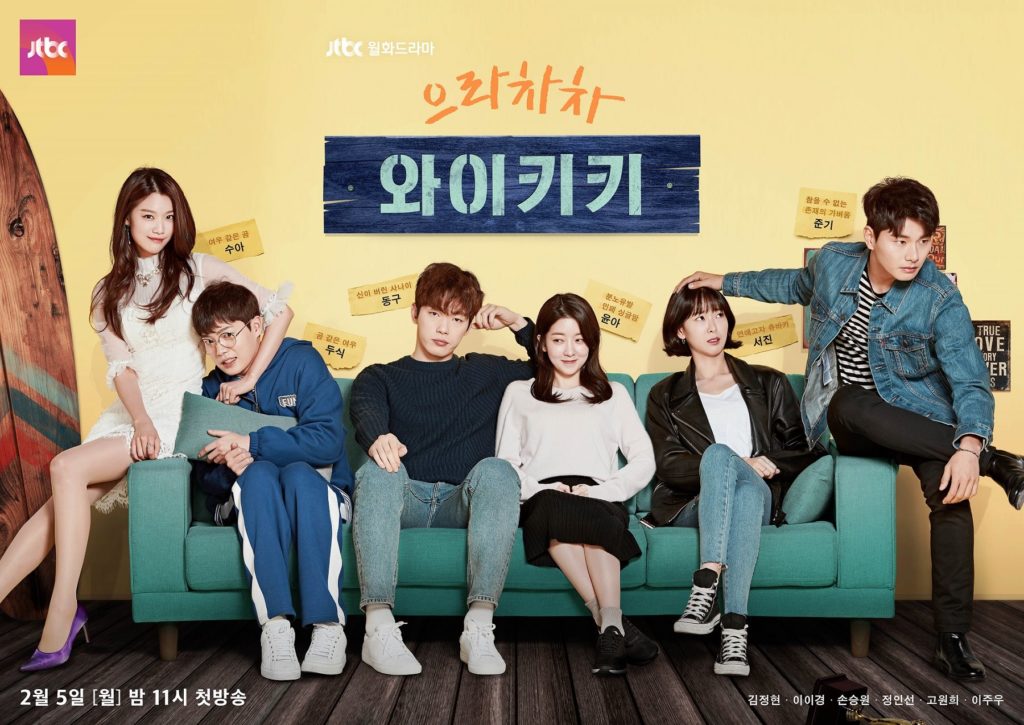 The first season of "Waikiki", despite not being extremely popular, managed to garner some really loyal fans. It was a realistic (and hilarious) portrayal of three young men living together in a guest house called Waikiki. It struck a chord with its previously mentioned loyal fans who begged for a sequel. A second season is now confirmed! It is still in its early planning stages so there's not a lot of details available but let's hope they bring the original cast back! The drama will air on JTBC in the first half of 2019.
My First First Love
Netflix has recently been investing in a lot of Korean shows, from variety shows to dramas. My First First Love, a part of Netflix original series comes from director Oh Jin-seok and writer Kim Min-seo. My First First Love revolves around young college students who experience a new chapter of life like first love and making new friends. It stars Jisoo, Jung Chae-yeon, and Jinyoung. It will be an 8 episode series and be available only on Netflix.
Which K-drama are you looking forward to? Let us know in the comments!
Tags: 2019, abyss, asadal chronicles, jung il woo, kdramas, Lee dong wook, lee jong suk, love alarm, Nam Joo Hyuk, Song Joong Ki, touch your heart